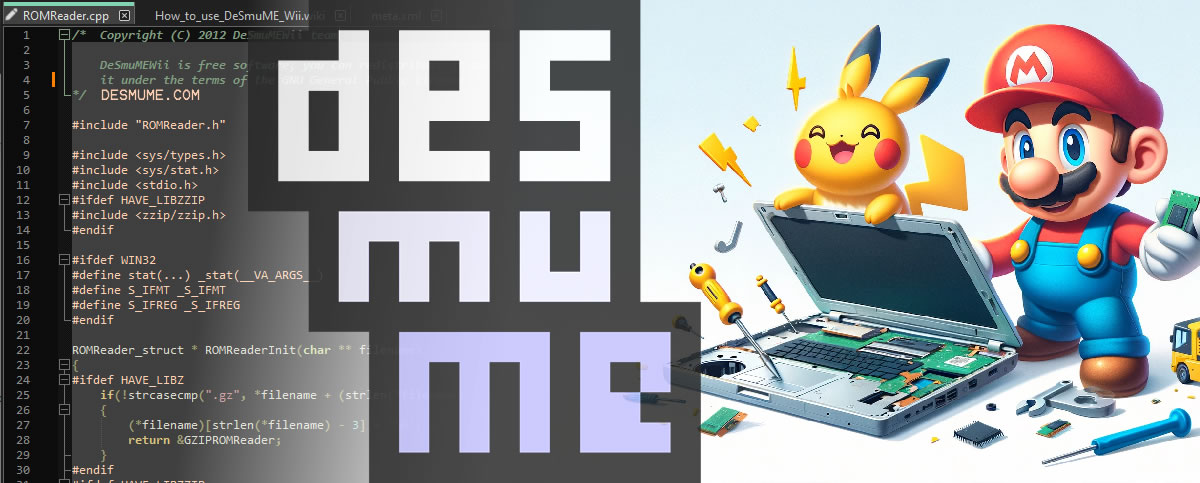 DeSmuME Users Manual - DS Emulator Help & Support
All your DS Emulator questions answered in one place so you can get to playing NDS Roms more quickly!
Check DS ROM compatibility

Not all roms work on this emulator so check for the games that do and download them. Compatible DS Roms
Unzip Emulator and Roms

Get them out of the ZIP archives so you have a folder a.k.a directory on the PC with
DeSmuME.exe and Your-DS-ROMs.nds
From within emulator open the rom.

1. Double click on the emulator exe to open it.

2. In the DeSmuME emulator click on File -> Open



3. Select the .NDS file (ds game rom) to open and click Open



4. Select Emulation and click on Run to start playing the game.

5. ENJOY!



Emulator Controls

Z = A
X = B
A = Y
S = X
Q = L
W = R
ENTER= START
SPACE= SELECT
MOUSE= TOUCHSCREEN
If you have more questions go here -> DS Roms & Emulator FAQ
User manual in German is here -> DeSmuME Beschreibung - Hilfe & Support

Emulates both CPUs
Direct DMA (not on VBlank or others)
Supports only Mode 0
Supports sprites
No support for extended palettes - sorting of backgrounds and sprites
Part of SWI
Does not emulate commercial game mainly because of CARD_REG
Emulates pretty well Meteos's demo but there is a small problem with the mouse
NO$GBA is a good emulator with a high compatibility rate with DS and GBA games. It offers almost everything that you need in an emulator.
However, you might experience some distorted sound while playing certain games. This could be caused by problems with sound emulation or synching due to a lag in the frame rate. But despite these issues, NO$GBA is still popular and well-supported by the gaming community and GBA.
All your questions answered in one place so you can play your【⚡️🔥💧】PoKeMoN Now..
Pokemon emulator for iPhone iOS app and Android version download.