DeSmuME X432R - DS Emulator MOD
At its release, X432R solved the problem of upscaling DS games, that was not possible with any other emulator at the time. You could plunge into the realm of upscaled DS emulation with X432R, an exceptional yet unofficial mod of the acclaimed DS Emulator. With X432R, users get unprecedented smooth HD 3D gaming visuals in DS games unseen on the original dual-screen hardware. MOD extends the features of the original by adding an option to magnify games up to X4, the initial resolution.
DeSmuME X432R is an unofficial fork / enhanced version of DeSmuME. No longer maintained - the latest release is based on the DS Emulators source code version 0.9.10.
We provide here an Optimal Settings Guide for streaming on Twitch, FAQs, and a Features list that make this mod a standout and a long-lasting influence in the DSemu scene. Dive deep and let the games begin! 
Nowadays, most of the features of X432r, like X4 upscaling, Texture Scaling, OpenGL 3D Rendering Engine, Antialiasing, and Soft Rasterizer, have been incorporated into DeSmuME version 0.9.13. Still, there are fans who prefer the mod.
App Name
DeSmuME X432R

Category
DS Emulator MOD
Platforms
Windows 64-bit & 32-bit
File Size
3.72 MB
Version
2015-04-19 0.7
Developer
yolky-nine
License
GNU General Public License
Price
Freeware: $0 USD
Executable
DeSmuME_X432R_x86.exe
DeSmuME_X432R_x64.exe
Rating
4.5 based on 24 reviews
DS Emulator [HD MOD] DeSmuME X432R
---
X432R Author's Note: yolky-nine
Old Official Home Page - Now Defunct
http://shikaver01.webcrow.jp/desmume_x432r/index.html
Introducing the DeSmuME X432R: This version is a personalized adaptation of the best Nintendo DS Emulator - DeSmuME that I made for myself, but others will find useful. Mod has added experimental high-resolution 3D model rendering features, among others.
DeSmuME X432R is an unofficial and enhanced version of DeSmuME, the most advanced DS Emulator. The X432R variant delivers high-definition rendering of 3D game objects in DS games. It allows for upscaling the original resolution by up to four times (X2 X3 X4) and fullscreen play. This makes DS games look better than they have ever looked before! However, to fully enjoy this feature, you'll need a powerful modern Windows PC equipped with a good CPU and a dedicated OpenGL graphics card. The DeSmuME X432R download archive contains both 32-bit and 64-bit Windows versions.
The origins of the DeSmuME X432R emulator are puzzling. This MOD came out of nowhere, and its developer remained anonymous and didn't give any interviews or respond to comments and requests. Its developer's (yolky-nine) real-life identity is unknown, and after a few years of active development, he has disappeared. The only clue about the modded emulator's origin is its original home page, which was solely in Japanese and has been offline for several years.
X432R is a DS Emulator mod, also known as a fork of the project. A "fork" in the context of an open-source DS emulator project refers to creating a separate branch or version from the original source code, that adds features while preserving the base that has already been established. Forks help the main project by testing possible future features, bypassing long development times caused by coordination with other devs. But they may brake things and add unstable code...
X432R is compatible with Windows 64-bit and 32-bit. The file size of the download is 3.72 MB, and its version is 2015-04-19 0.7. As mantioned above the developer of this DeSmuME fork is "yolky-nine". The X432R mod is licensed under the "GNU GENERAL PUBLIC LICENSE" and as such is available as freeware, costing you $0 USD. The executable files in the download archive are "DeSmuME_X432R_x86.exe" for older 32-bit computers and "DeSmuME_X432R_x64.exe" for the latest Windows PCs.
Steps to Activate Hi-Res Mode:
Download -» Extract to any folder.
Launch DeSmuME X432R exe file.
Navigate to Config -» High Resolution 3D Renderer. Select from the X2, X3, or X4 options.
Feel free to adjust other settings based on your preferences.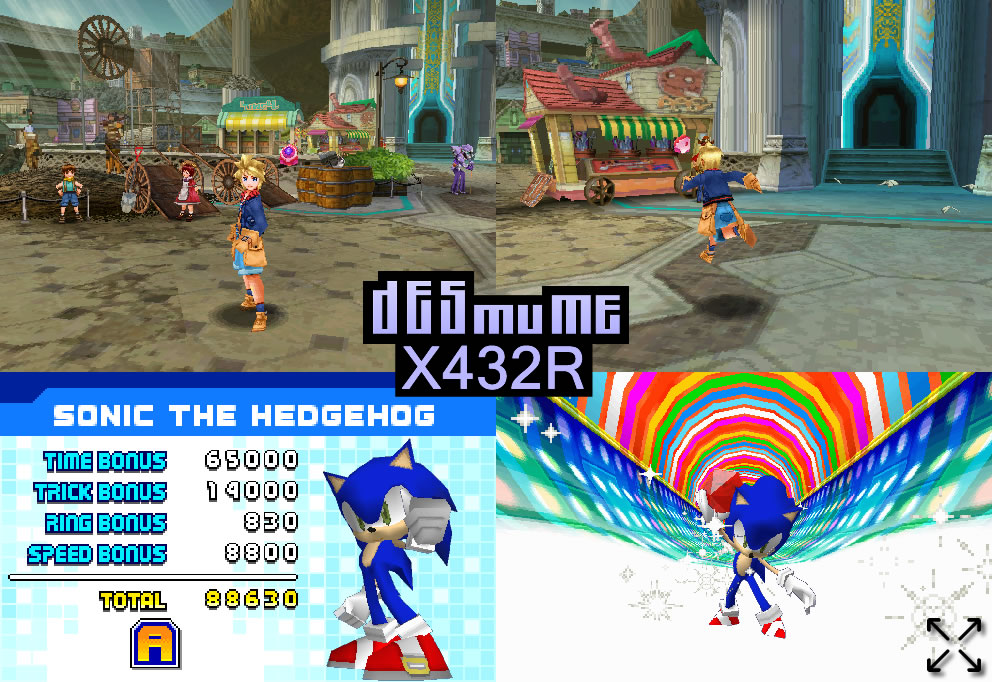 X432R FAQ
Q: When I use OpenGL X4, all Magnification Filters appear unavailable. Can I use DeSmuME X432R with OpenGL X4 and also apply a Magnification Filter like HQ2xS?
A: Activating High Resolution will deactivate the Magnification Filter option. If you're aiming to use post-processing effects for 2D games, revert to the native resolution. Personally, I find that the native resolution (256x192) combined with a filter, specifically HQ2XS, offers a far superior visual experience than the upscaled high-resolution, irrespective of whether it's rendered in OpenGL or SoftRasterizer.
Genreal DeSmuME Rom and DS Emulation FAQs
What is DeSmuME?
DeSmuME is the most advanced, reliable, feature-rich, and open-source 100% free Nintendo DS emulator for Windows, Mac, and Linux with ports and forks that work on Android, PSP, Wii, Xbox, PlayStation, and some devices we had no idea could play DS games. Online / browser-based port for iOS iPhones and iPads will run without requiring Jailbreak of iOS devices! It lets you replay all your favorite NDS games for free.
| Device | Fork or Port |
| --- | --- |
| Nintendo Wii (Wii) | DeSmuME Wii is a port of the DS emulator - DeSmuME, made for the Wii. Frame skipping is a temporary method used to make games run faster on Wii, but there are better solutions than this. We're working on better ways to improve the emulation speed. Also, Wii Remotes with built-in Motion Plus seem to need fixing with this port. |
| Sony Playstation Portable (PSP) | DeSmuME PSP is a port of DeSmuME made for the PSP. HCFcoder first created it. Right now, it works slowly. The goal is to make it run smoothly by letting the central computer brain (CPU) and the Media Engine share the work. This way, lots of games might play nicely. At the moment, this version is straightforward. Everything happens in the central computer brain, which makes it slow. It also uses SDL to handle pressing buttons instead of the regular PSP way. |
| SONY PlayStation 3 (PS3) | DeSmuME PS3 port can play 2D games similar to Yoshi's Island run smoothly. Anonymous, the now famous PS3 developer who recently created the PlayStation 1 and SEGA Megadrive emulators on PlayStation 3 is trying to make 3D games faster and add sound support. He is also adding a tool to emulate touch screen using controllers joysticks. Right now, there's a button (L3) you can press to simulate touching the DS screen, which is helpful in some games. You can save your game, and there's a menu to pick different games by pressing the R3 button without having to restart the app. |
| Google Android Phones, Tablets and TV boxes | DeSmuME Android .apk is a top-rated DS emulator core that is integrated within the RetroArch emulator frontend. By following easy setup steps, users can quickly download and install the RetroArch and DeSmuME core on any Android device. Use DS games in the .NDS rom format and check troubleshooting solutions for common issues. I highly suggest using a USB or Bluetooth controller for better DS emulation and gameplay. |
Guide by Moxi for The Best Looking Graphics
---
Optimal Settings for Pokémon Hardcore Nuzlocke Challenge live streaming on Twitch. Streamers always receive questions in the chat about DeSmuME DS emulator settings and how they make them appear so smooth and high-res.
Here is a step-by-step guide by Moxi to achieving the best graphics and performance for playing DS games on the DeSmuME emulator.
To get started, you'll require a specific version of DeSmuME that supports enhanced custom 3D textures - X432R mod. Find and download from the link at the top of this page.
Emulation Settings:
Navigate to: Config » Emulation Settings.
Enable the 'Use Dynamic Recompiler' option and ensure the value is set to 100.
Sound Settings:
Navigate to: Config » Sound Settings.
Choose 'Synchronous' for synchronization mode.
Follow with checking 'Sync Method N' located just below.
Graphics Settings:
Navigate to: Config and hover over 'High Resolution 3D Renderer'.
I recommend the x4 (1024x768) setting for optimal quality.
3D Settings:
Go to: Config » 3D Settings.
Choose between OpenGL (GPU intensive) and Soft Rasterizer (CPU intensive). For live streamers, I suggest OpenGL to reduce CPU load at the cost of precision.
Enable 'Anti-Aliasing'. Adjust settings levels based on your computer's capabilities.
Speed Up Settings:
Navigate to Config » Frame Skip.
Select 'Limit Frame Rate' for smoother gameplay when not speeding up.
Choose and select both 'Auto Minimize Skipping' and 'Number Nine'.
Go to: Config » Hotkey Config. Map one input to both 'Fast Forward Toggle' and 'Limit Frame Rate Toggle'. It should be the same input for both functionalities.
Under the Config options, choose 'Fast Forward/Slow Motion Speed Limit'. Set 'Fast' to 'Unlimited' and 'Slow' to 50 fps.
Since DS in-game sound can be jarring when sped up, go back to Config » Hotkey Config. From the dropdown menu, select 'Tools' and assign an input for 'Toggle Sound Enable'.
---
If you found this DeSmuME guide helpful or have further questions, please subscribe and leave a comment. Moxie streams Pokémon hardcore Nuzlocke challenges on Twitch.tv/Moxie. Join him there and enjoy the live sessions. Hopefully, you found his video useful.
---
Unique Features introduced by DeSmuME X432R:
Author: yolky-nine. Designed only for Windows. Please be cautious: it might have bugs that crash the emulator.
Major Updates:
High-resolution 3D rendering:

This is an experimental feature.
Several updates like changes to depth value calculation, stencil test corrections, internal processing method updates, fog handling improvements, and more.

Display and Render Settings:

Improved Edge Marking drawing speed.
Introduction of Direct3D as a display method.
Use of Post-Processing Shader.
Various additions and removals to Config menu and 3D Settings window regarding display methods and quality adjustments.

Screen Size and Layout:

Additions and removals in screen size settings, including an option to switch sizes for upper and lower screens.
Changes and removals in LCD layout settings.

Hotkey Settings:

Added functions for Slow-Motion, Toggle Slow-Motion, Swap Screen Size.
Removed functions like Toggle 1/2 Speed and Toggle 1/4 Speed.

Other Improvements:

Fixes for various processing issues.
Improved display reproducibility.
Updates in alpha blending, Anti-Alias, fog handling, and more.
CPU Power Saving feature to reduce load.
Fixed specific issues, like screen not displaying correctly on single-core CPUs or when certain ROM filenames are used.
Each of these updates was created based on the official SVN versions, with each date marking a new revision or set of changes.
Wan to know more details? Read the full DeSmuME X432R development history »